Become a dōTERRA Wholesale Customer to get a 25% discount! Click here to find out more.

doTERRA Oregano is one of the most potent and powerful essential oils and has been used for centuries in traditional practices. The primary chemical components of Oregano is carvacrol. Oregano is known to support a healthy immune system, healthy digestion and respiratory function, is an incredible cleansing agent and offers powerful antioxidants.

Aromatic description: herbaceous, sharp, green, camphoraceous. 

For gentle and convenient topical application get the Oregano Touch. The Oregano Touch is the Oregano essential oil mixed with fractionated coconut oil to ease topical application. 
Diffusion: Use one to two drops in the diffuser of choice.

Food flavour use: Add 1 or 2 drops to food.

Topical use: Apply one drop to desired area. Dilute with a carrier oil to minimise any
skin sensitivity.
Oregano Essential Oil
dōTERRA - a Latin derivative meaning "Gift of the Earth" - was founded in 2008 by a group of health-care and business professionals after they discovered the amazing benefits that come with using essential oils. They made it their mission to share these incredible properties with the world.

Sharing essential oils is a unique experience and there is so much to learn about their wide range of applications - for both your physical and mental health. We want you to have the best essential oil experience possible, and we offer classes which will introduce you to some of the most gorgeous oils as well as giving you an overview of their uses. Find out more here.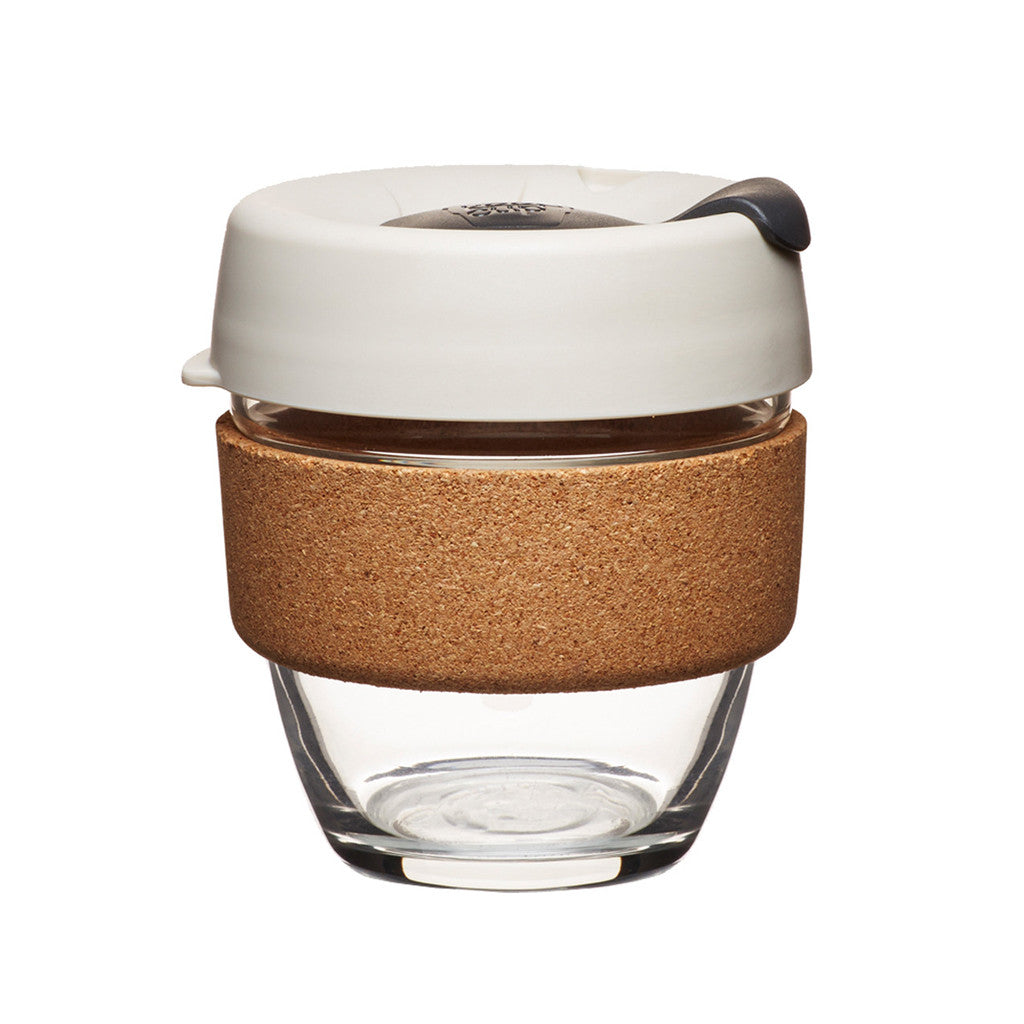 Reusable Glass Cups
$23.00
The swankiest reusable coffee cup we've come across, the KeepCup is the world's first barista standard reusable drinking vessel. Now available in classic glass and cork, this KeepCup is designed for pure drinking pleasure on the go. It completely seals your takeaway coffee, keeping it piping hot and splash-proof in transit.

Did you know every minute over 1 million disposable cups are discarded to landfill? Save a little bit of the planet every morning with your daily cup of Joe, and join the reusable cup revolution! Great for Chai Lattes, herbal teas and our favourite Teeccino herbal coffees.

These beautiful limited edition glass and cork KeepCups are now available in NZ for the very first time at Be Good Organics.


Head to local cafe. Order favourite said coffee, chai or tea (with plant-based milk of course). Hand over KeepCup with a glint in your eye and curl in your smile. Browse morning paper or chat to your neighbour. Reach hands out to gladly receive your freshly brewed hot organic beverage. Head off on your merry way, without fear of white-shirt drink spillage or just-arrived-at-office-coffee-is-cold syndrome.

The Small (8oz/227ml) is perfect for flat whites, while the Medium (12oz/340ml) is great for chai lattes, herbal teas and Teeccino herbal coffees.

Do not remove the cork band during washing. Washing by hand is recommended. 

Glass, cork, with a BPA free non toxic food-grade plastic lid - the safest food grade plastic available (polypropylene #5)
"After several weeks of use, I must say that this cup performs greatly. Like what others have said, this cup allows the coffee to lower in temperature which didn't colour the flavour of the coffee in a bad way. The flavours have been consistent from cup after cup. I've even put the cup through the greatest test of all - leave left over coffee in there for several hours. In most cups, that will forever taint the scent of the cup which will also alter the aromatics you experience while drinking from it. The leftover oils didn't seem to latch onto the cup too much, and whatever scent was left was removed by a simple wash with dish soap."

- Robert Agcaoili (Coffee Expert, blogger at gridwriter.com)

"I now use my Keep Cup every day at work. It keeps my soy or almond milk chai latte nicely warm, is great for the environment, and is very easy to clean - I put it in the work dishwasher overnight and take it out the next morning to reuse."

- Tony Robert (Auckland, New Zealand)
KeepCup's mission is to encourage the use of reusable cups, and divert the number of disposable cups that go to landfill each year. Every minute over 1 millions cups are thrown away! KeepCup actively strives to change how people think about our convenience culture.


Based in Melbourne Australia, one of the world's great coffee culture cities, KeepCup is also commited to reducing their own environmental footprint, with local manufacture, printing and packaging.
---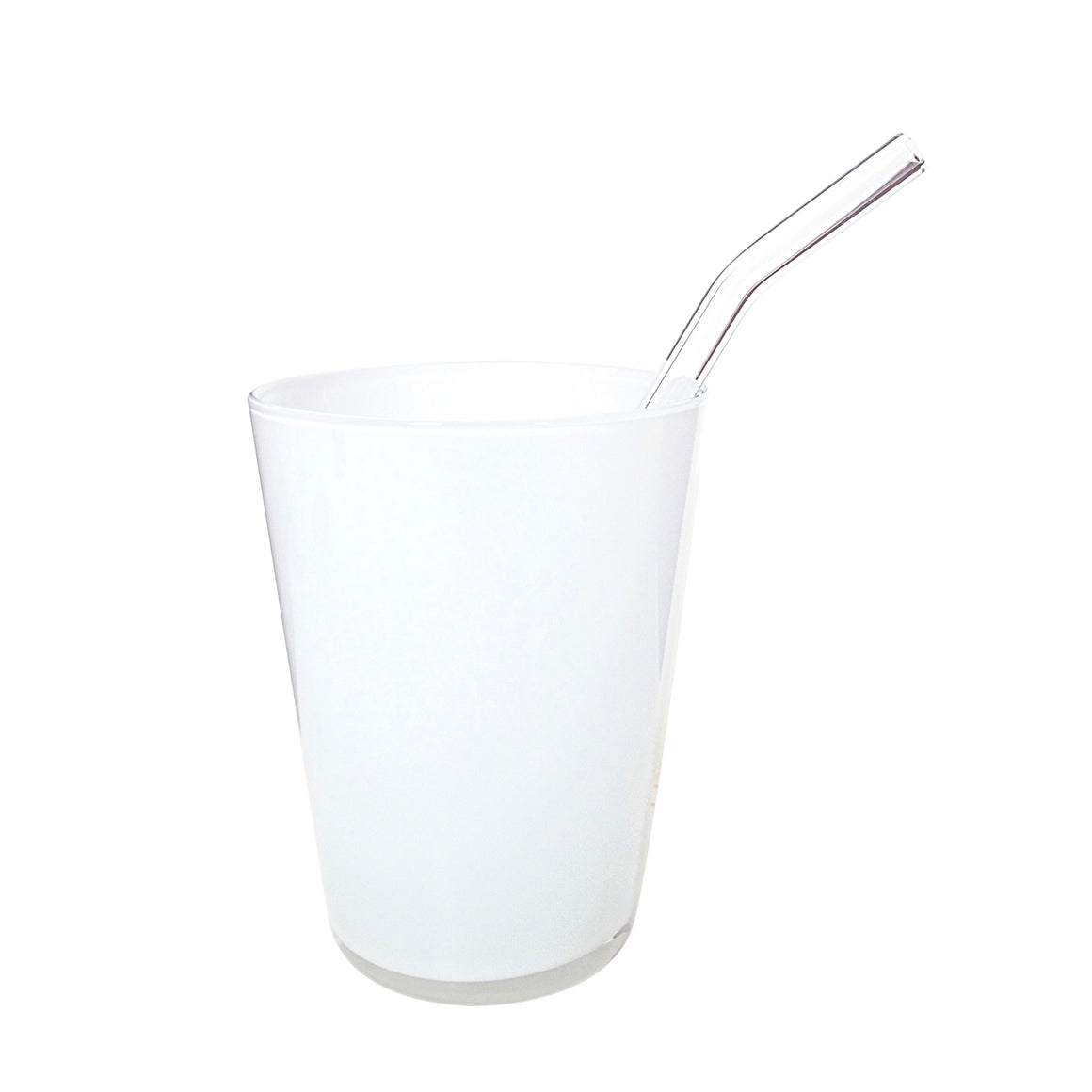 Reusable Glass Straws
$13.00
Do you know how many disposable straws we humans thrown away each day? Too many! These reusable beauties from Glass Dharma are made with super strong dishwasher- and microwave-safe non-toxic glass known as borosilicate, making them much more sustainable and safer than their disposable plastic cousins. Good for your health, and good for the environment. They also look pretty stylish in your glass or jar too.

Use them at home to drink your favourite smoothie or juice, or take up to your local cafe like we do!

Our straws come in two styles - a slightly wider "Straight" option perfect for thick smoothies, or narrower "Barely Bent" style great for both smoothies and juices. We highly recommend getting one of our purpose-designed cleaning brushes or one of our straw plus brush sets, in order to keep your straw in pristine condition.
Use them at home to drink your favourite smoothie or juice, or take up to your local cafe like we do! They are safe to be used to drink any hot or cold liquids.

After use, wash with our purpose-designed cleaning brushes.

Borosilicate glass. Non-toxic and dishwasher/microwave safe.

The Barely Bent Regular is 9.5mm in diameter
The Standard Smoothie is 12mm in diameter
Both are 20cm (8 inches) long
Coming soon
Founded in 2007, Glass Dharma is a family-owned and operated California-based green company with a commitment to health and the environment. They're passionate about reducing the environmental costs of plastics by offering fun, safe, and reusable glass drinking straws to people of all ages - making it easy to go green! Their straws are all hand-made in their workshop in California and they take pride and care to offer the best products and services available.
---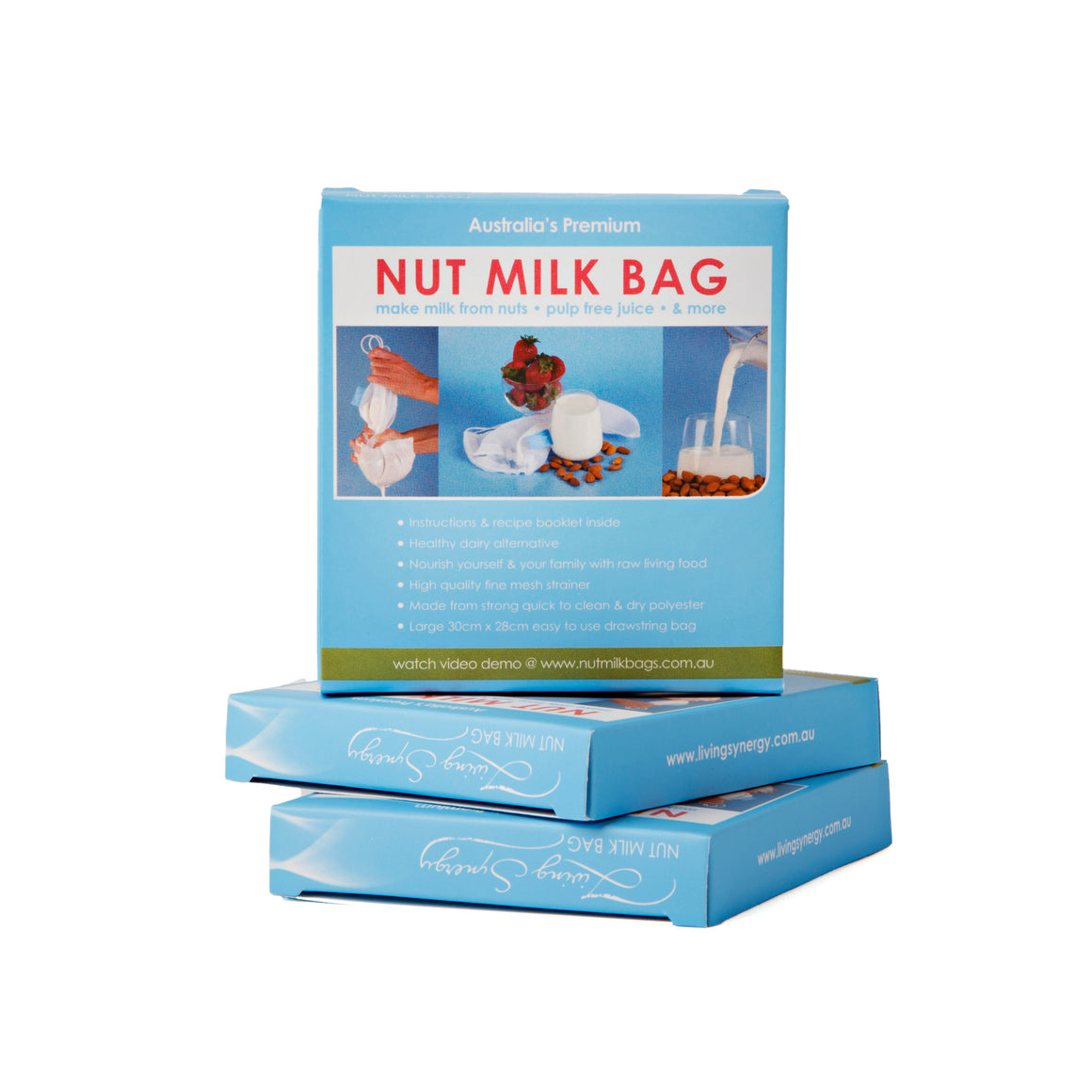 Nut Milk Bags
$16.00
We've been on the lookout for the best ever nut milk bag for a few years now, and have finally found it! These fantastic Living Synergy Nut Milk Bags are a super handy, multi-purpose tool that will help you make fresh, living and nutritious milks from a variety of nuts, seeds, grains and legumes. Try your hand at homemade almond, cashew, sesame seed, brown rice, quinoa, oat and soy milks (some of our favs). You can also use these bags to make juice from fresh ingredients, by blending and straining your juice through the bag. 

WANT A FREE NUT MILK BAG? Everyone who orders a Vitamix blender will also be sent a free Nut Milk Bag to help them with their homemade nut milk goodness! Simply enter the code NUTTY at checkout. 

Our fabulous Living Synergy Nut Milk Bags are of the highest quality materials, generously sized, fine meshed, strong, durable, easy to clean and super quick drying. They are a wonderful accessory for a Thermomix, Vitamix or any other powerful blender, and can be used wherever you would normally use cheesecloth or muslin in cooking. We know they'll quickly become your favourite plant-milk making accessory too.

Each set comes with 1 x Nut Milk Bag and 1 x A4 colour instruction and recipes booklet.
Use for straining nut milks, juices or anywhere else you'd use a cheesecloth or muslin.

Simply place your nut milk bag over a bowl or jug, pour your blended nut or plant milk into the bag, then lift the bag and squeeze firmly to allow all liquid to filter through the bag. Store your freshly squeezed plant-milk in the fridge for up to four days. Meanwhile keep any nut, oat or rice pulp from inside the bag, and add to cookies, biscuits, cakes, muffins, or just in your morning bircher muesli!

Each set comes with 1 x Nut Milk Bag and 1 x A4 colour instruction and recipes booklet.
"Jen's Nut Milk Bags are the best I've found. Very easy to use, easy to wash, high quality and long lasting. I highly recommend them for squeezing the pulp out of nut and coconut milks, rice milk, oat milk, chia milk, and even for taking the pulp out of juices if you prefer your juice without all the fibre."

- Jo Whitton, author of Quirky Cooking Blog (Queensland, Australia)

"I made the almond milks on stage at the expo ... it was very cool using your bags. I love the fact that they are sturdy, wash well and dry fast. People were amazed how easy to was to make their own milks! I will recommend yours to people as they are the best I have used."

- Teresa Cutter, famous Australian chef (Sydney, Australia)
Founded by Jen Keenan, Living Synergy produces Australia's premium nut milk bags, enabling you to make your own fresh nut and seed milk quickly and easily at home.

Made from high quality polyester, Living Synergy nut milk bags are durable, easy to clean and quick drying - also making them multi purposeful as they can be used for making and straining juice or as a cheesecloth or muslin!
---